Electronics Manufacturing Service

Electronics Manufacturing Service
DNE provides a comprehensive EMS (electronics manufacturing service) that includes electronic substrate circuit mounting production processes for a wide range of electronic products, office equipment, optical equipment and communication systems; DNE facilitates assembly of ultra high performance optical devices, specialty machining processes, and subcontracted production for the full range of manufacturing processes including procurement of production materials.
Advantages 1 of EMS at DNE
Extensive supply chains supporting the local production/local consumption model
Domestic and international supply chains
Modern electronic substrate manufacturing involves an enormous number of different parts and materials such as electronic substrates and assembly components. Sourcing the best possible materials can be a time-consuming process. DNE boasts an extensive and varied network of domestic and international supply chains that allows us to identify the best parts and materials for each and every product. DNE handles all parts of the manufacturing process, from sourcing of materials through to product assembly.
Local procurement and supply to local markets in Japan, China, Thailand and Vietnam
Every DNE facility has its own role to play. Design and evaluation is carried out exclusively within Japan, while procurement of production materials, substrate mounting, final assembly, inspection, packaging, shipping and delivery processes are handled independently by individual facilities,This approach allows us to tailor our services to client requirements at the local level, not only in Japan but also in China, Vietnam, Thailand and around the world.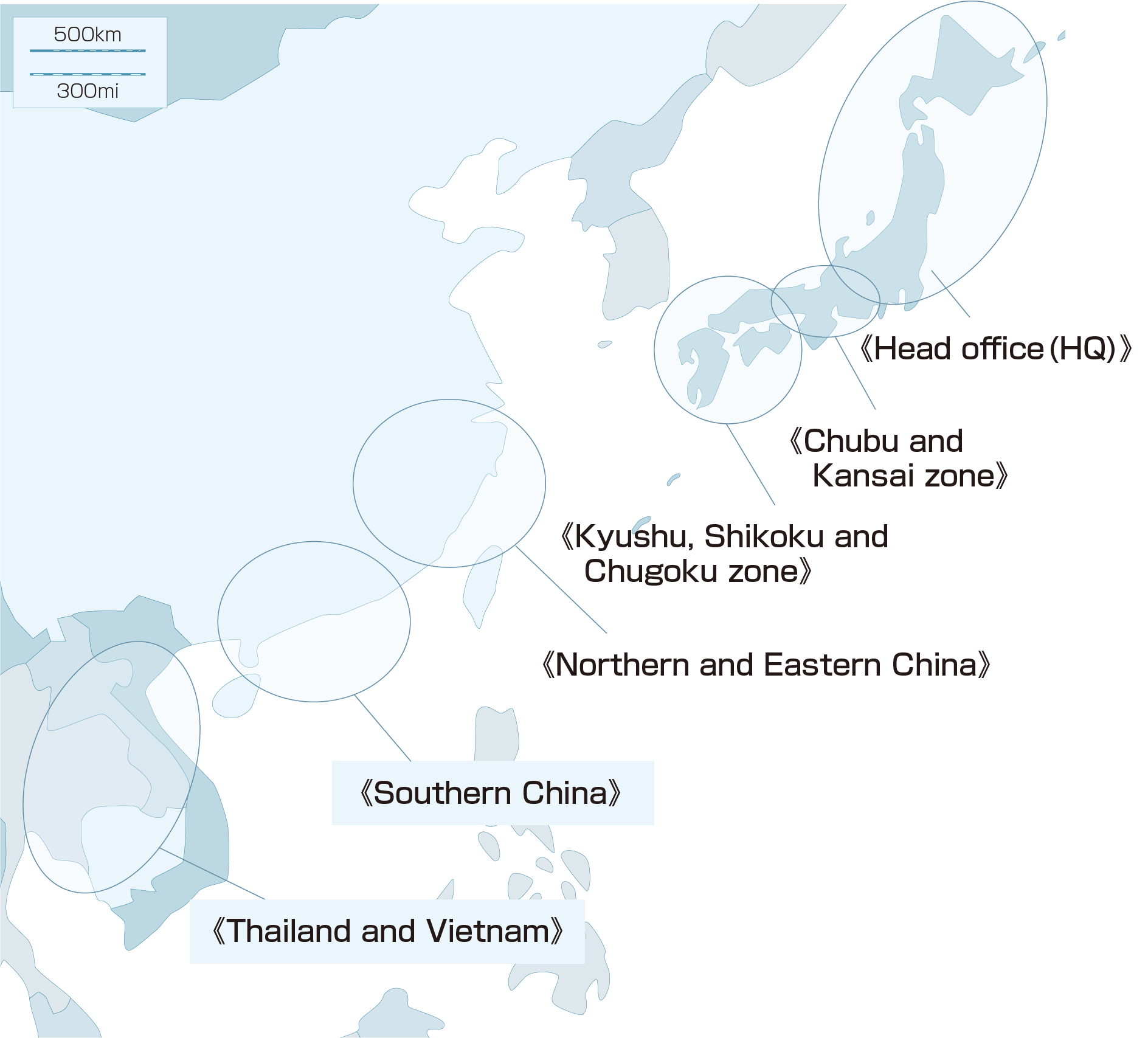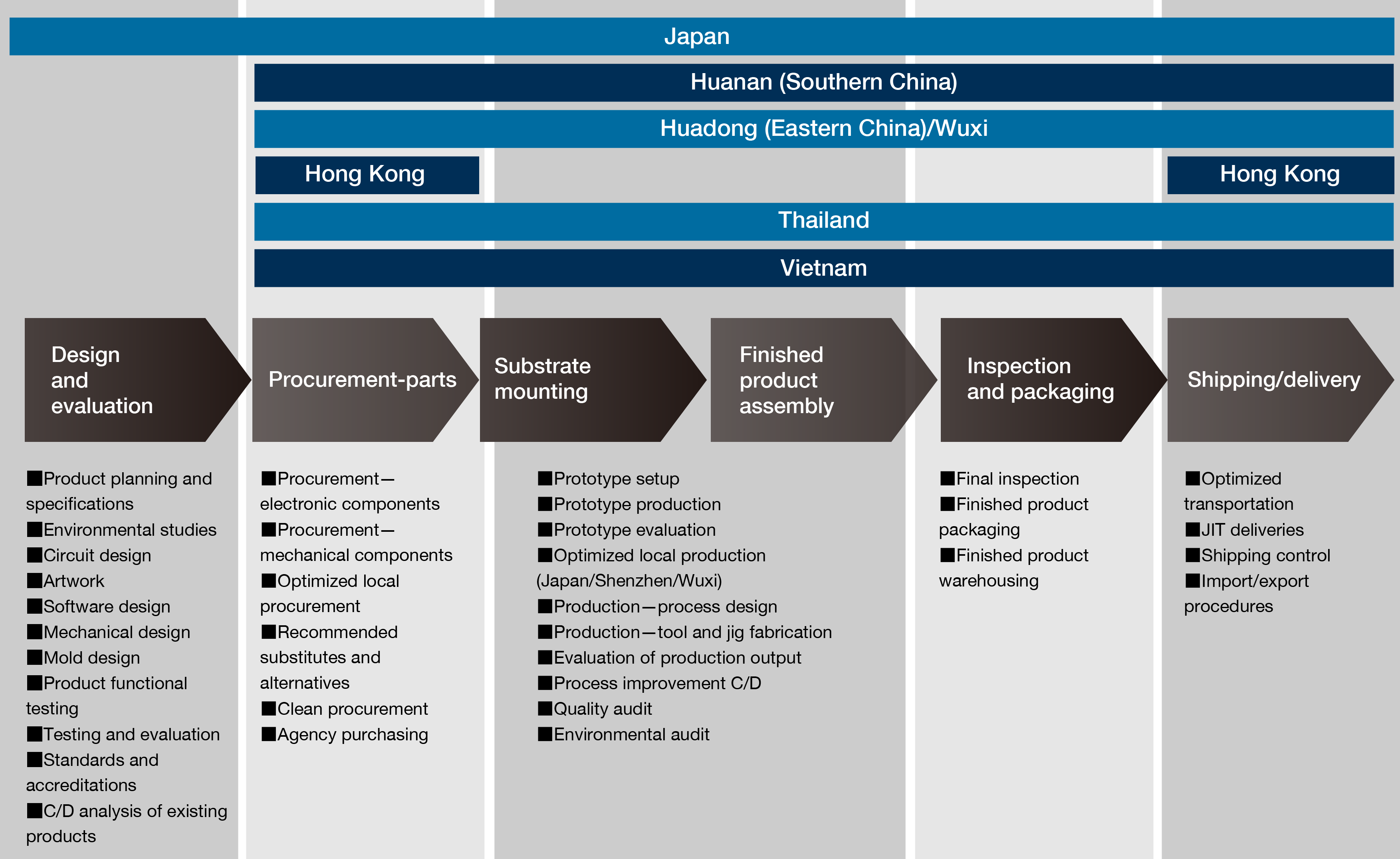 Advantage 2 of EMS at DNE
From substrate mounting to product assembly
Reliable substrate mounting substrate mounting only jobs are possible
DNE boasts integrated production lines that combine printing machines, solder baths, mounters, reflow ovens and visual inspectors for seamless operation. We also design mounting lines that include manual processes, typically for smaller production runs and specific components. Given the number of parts and components involved in the substrate mounting process, we use a barcode system to ensure that all parts are correctly allocated to prevent potential quality issues. Mounting jigs and tools are fabricated in-house on a Fanuc Robodrill.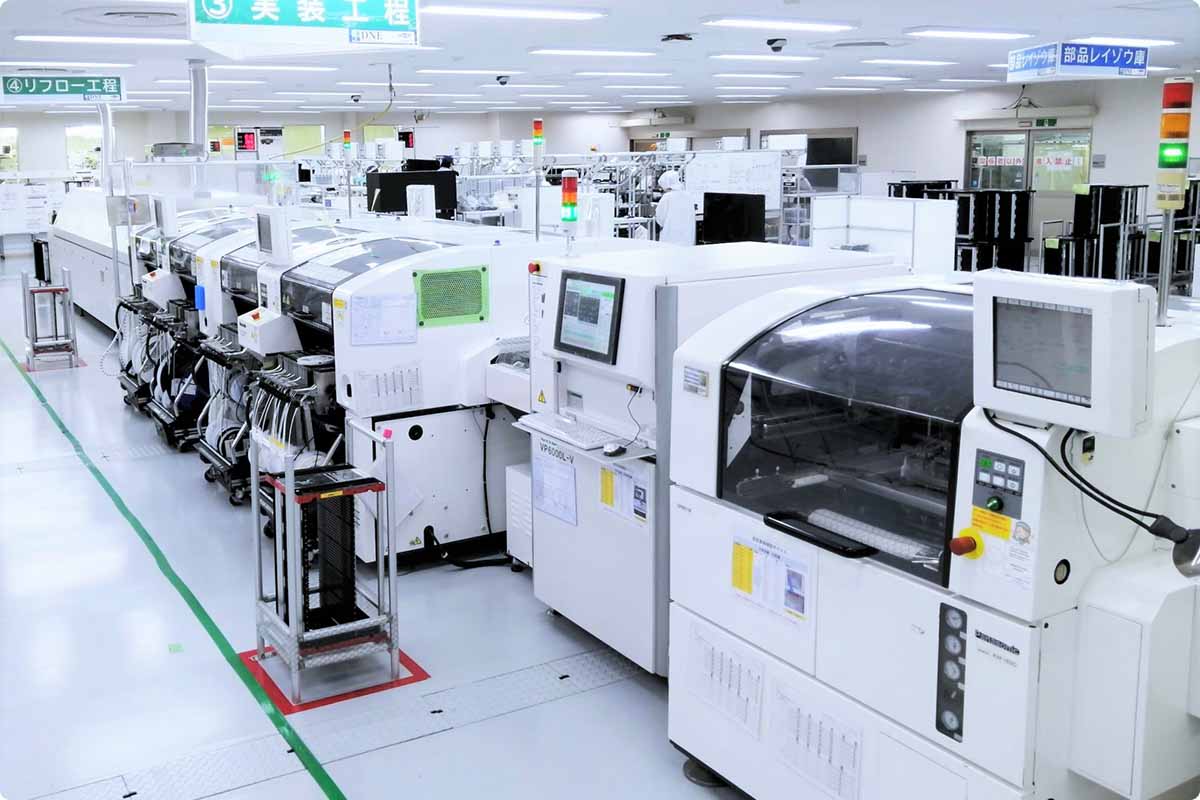 Production and assembly processes
DNE also provides assembly to the finished product stage for a wide range of component modules and products including interchangeable lenses for SLR cameras and lenses as accessories for commercial-standard digital cameras, office equipment such as printers, ATMs, and public infrastructure such as transport signalling systems. DNE offers a unique advantage as a one-stop shop for everything from substrate mounting to product assembly.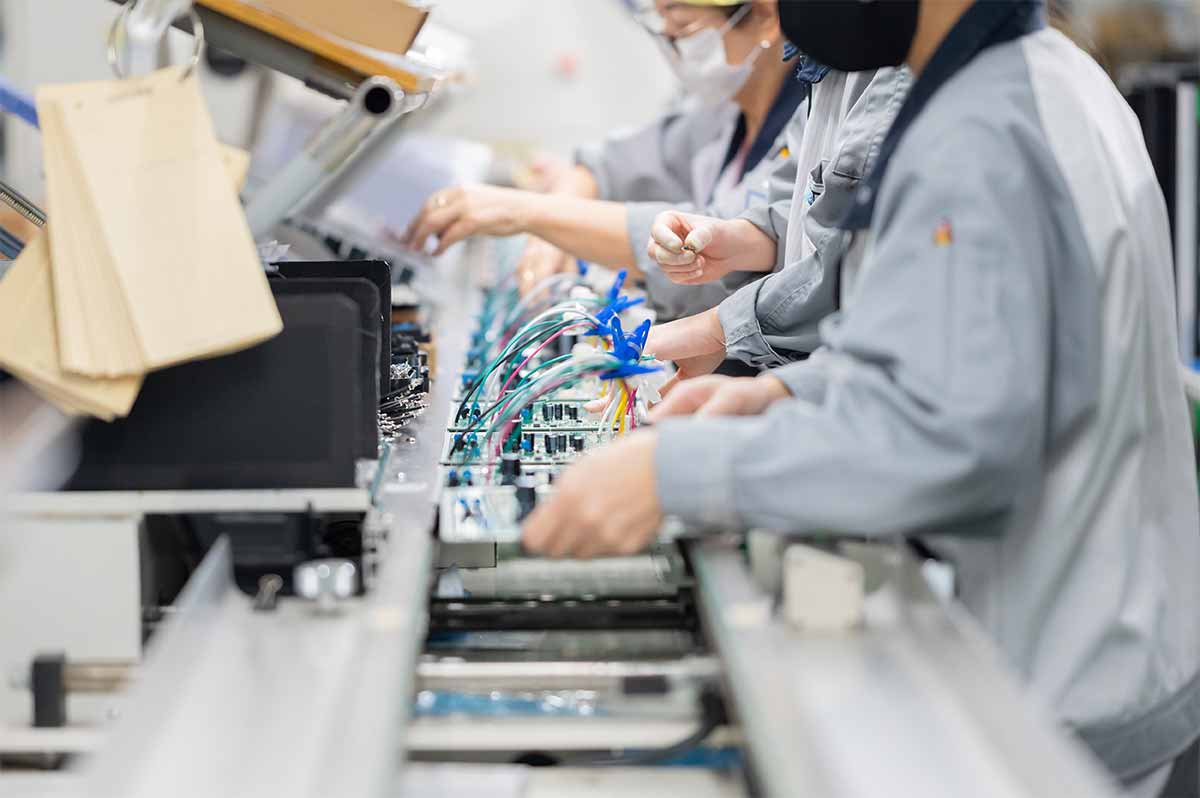 Advantages 3 of EMS at DNE
Clean environment
Assembly in Class 10,000 clean room
With its own Class 10,000 clean room, DNE boasts extensive experience and expertise with assembly of electronic parts, SLR camera interchangeable lenses and other products that require ultra-clean conditions.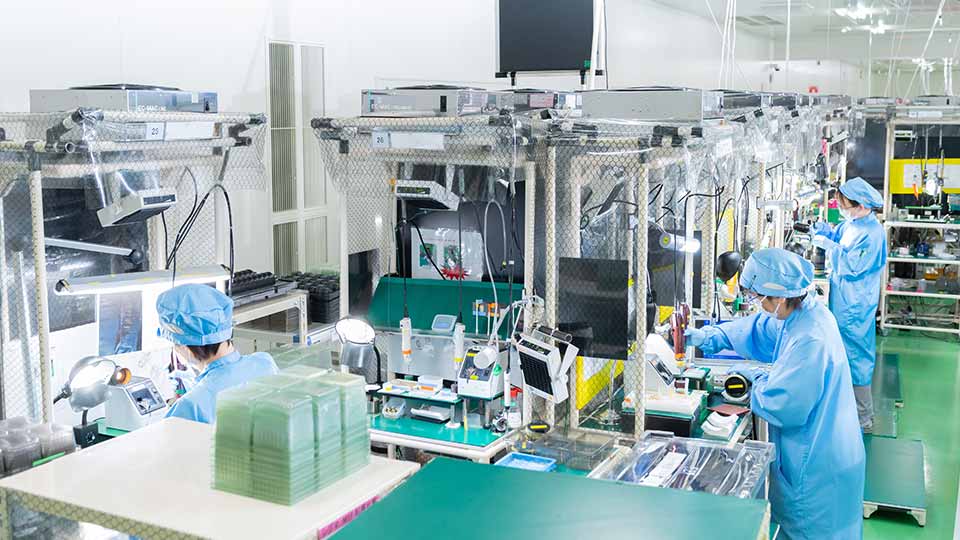 Large clean room accommodates entire production line
The spacious 2,400 m2 clean room at DNE offers the flexibility to set up and/or reconfigure an entire production line, including separate zones, with minimal lead time to vertical startup. Contact us to discuss your clean room assembly requirements.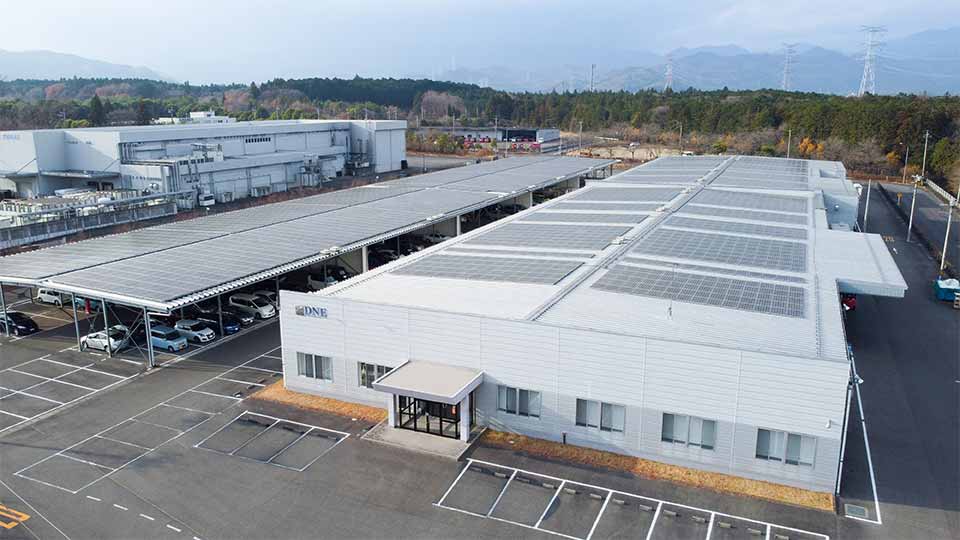 Advantages 4 of EMS at DNE
Assembly tools and jigs developed in-house
Assembly tools and jigs developed in-house
In-house design and fabrication of tools and jigs is key to the automation of production processes to reduce operator workload. Robots and automated equipment boost productivity and improve quality consistency across a variety of substrate mounting and assembly processes for modules and finished products, including lens washing, screw tightening, uniformity of spray coatings, imaging counting of electronic parts, and masking.